Now that you're onboard and notarized, this article will help you learn the basics of your Earth Class Mail account.
Inbox 
After logging into your account you will be taken to your Inbox. This is where new mail items will appear as they arrive. Unread mail items will be shown in bold.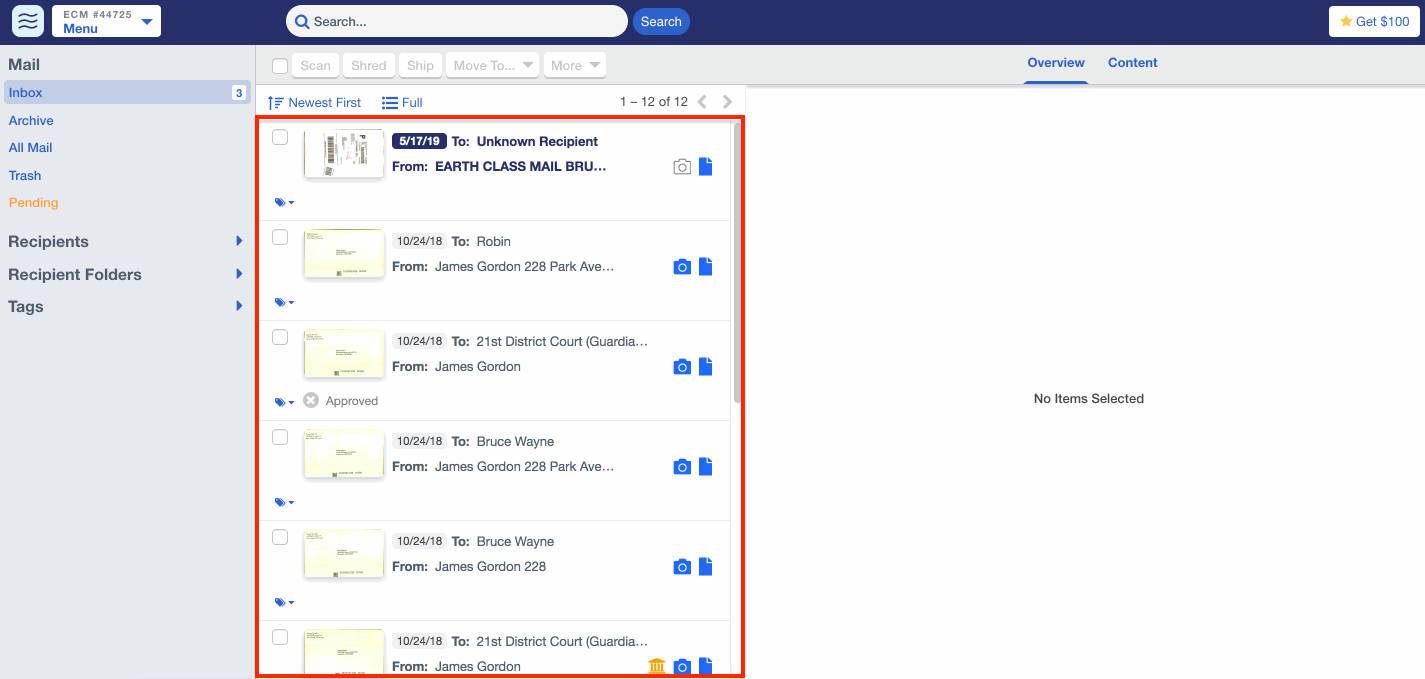 Clicking a mail item will load it in the Preview Panel. If the contents of a mail item have been scanned, the PDF scan will be displayed in the Content tab. You can view additional details about your mail by clicking the Overview tab.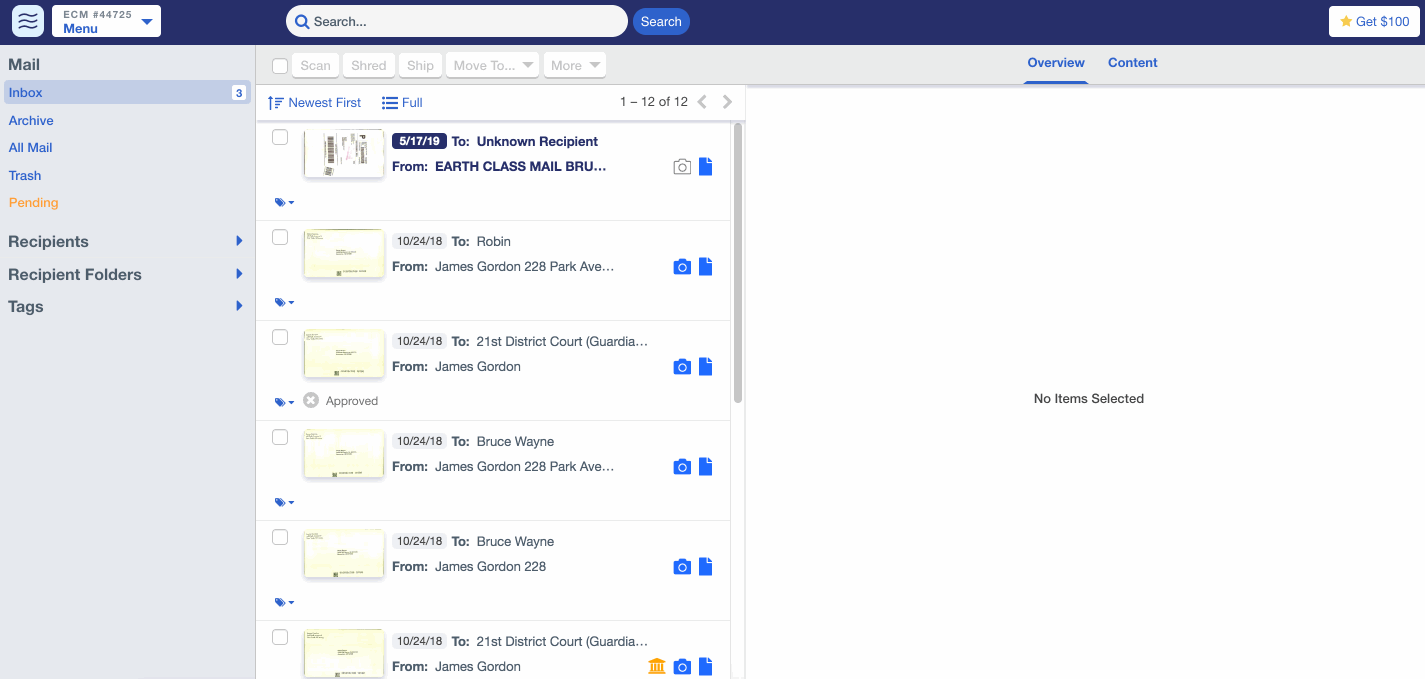 Item Icons
At-a-glance status icons help you quickly see whether your item has been scanned or whether you have taken any additional action on it. Here is a key to understanding what the icons mean:
Actions 
Selecting an item will display available actions: Scan, Shred, Ship, and Move To. You can also select the More drop-down menu to see additional options for managing your mail. 
Main Menu
The Main Menu provides links to useful pages. You can navigate to your Settings, access our Support and Help pages, and provide feedback to help us improve your experience.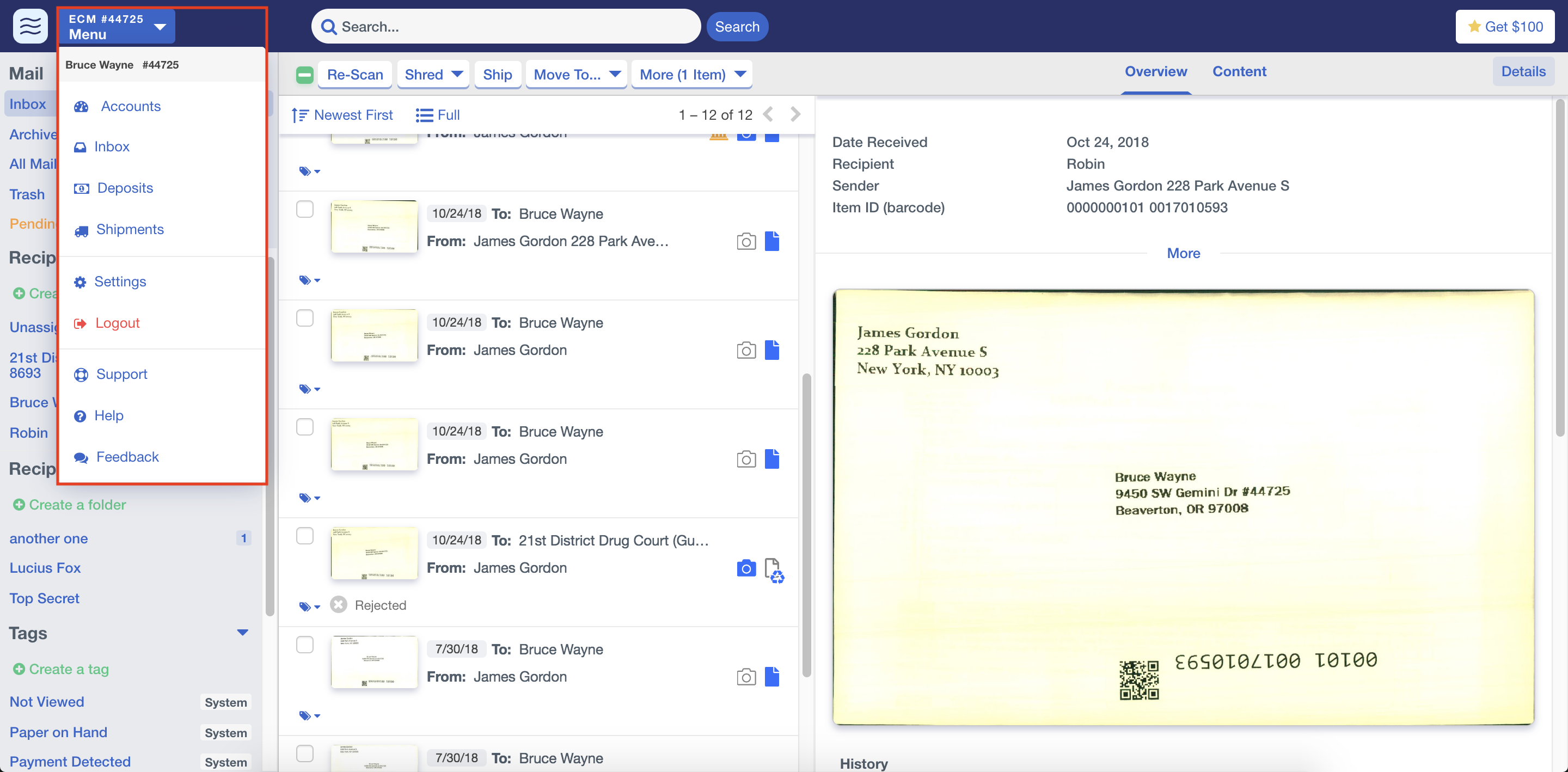 Default Views   
Inbox shows new mail items as they are received.

Archive displays all of the items that you have chosen to Archive. Archiving an item will remove it from your Inbox.

All Mail displays all of your mail items, whether they're in the Inbox, or have been moved to Archive or a Recipient Folder.

Trash contains items that you have chosen to move to Trash.

Pending contains mail items with a physical action, such as a pending shipment, shred, or check deposit that has not been started by our Operations team. Items in this view can have their action canceled.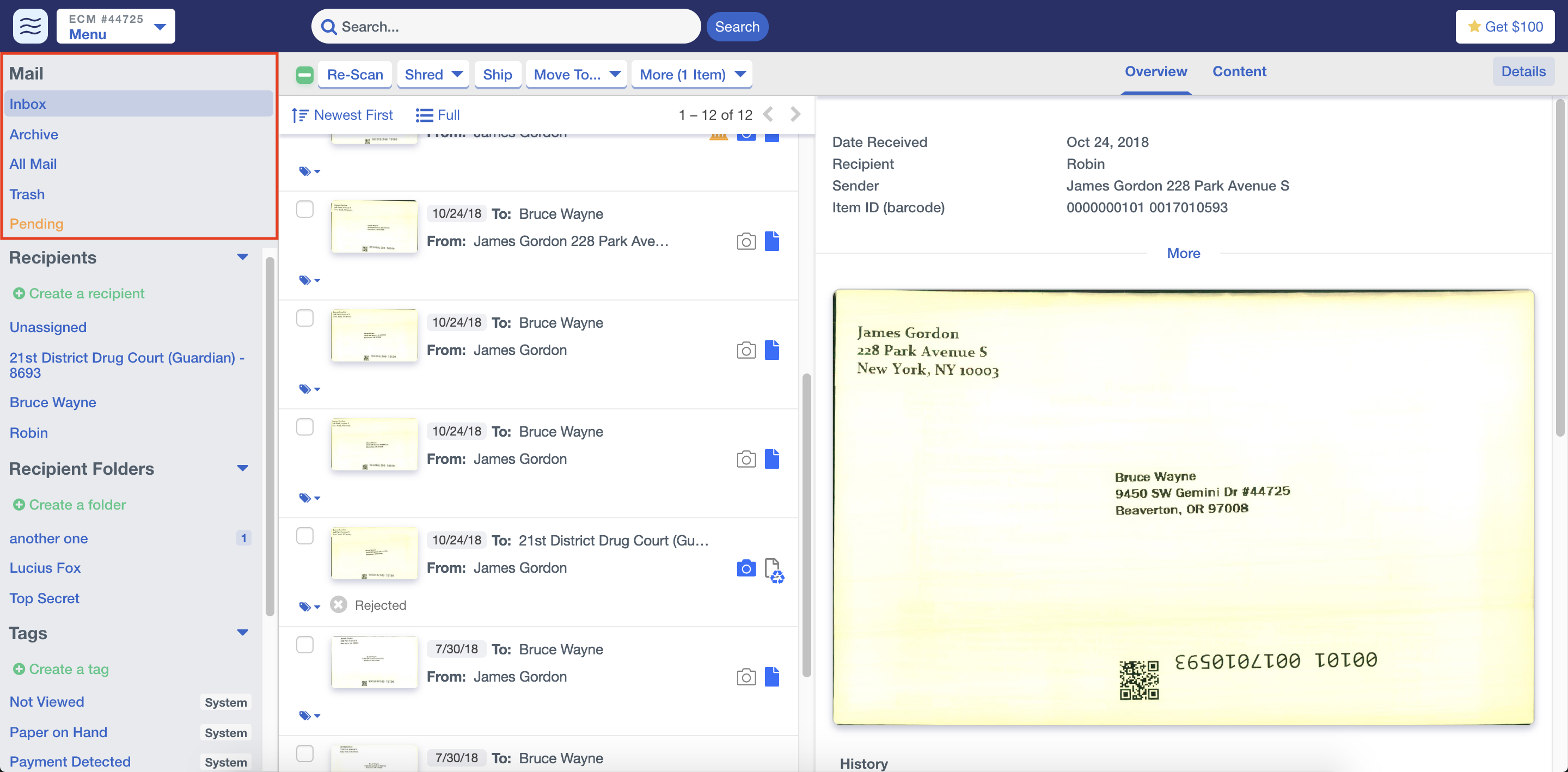 Recipients 
Recipients are the names of people, business entities, and/or departments receiving mail at your Earth Class Mail address. Creating Recipients allows you to set up automation rules for each, and easily filter the mail in your Inbox. Learn more.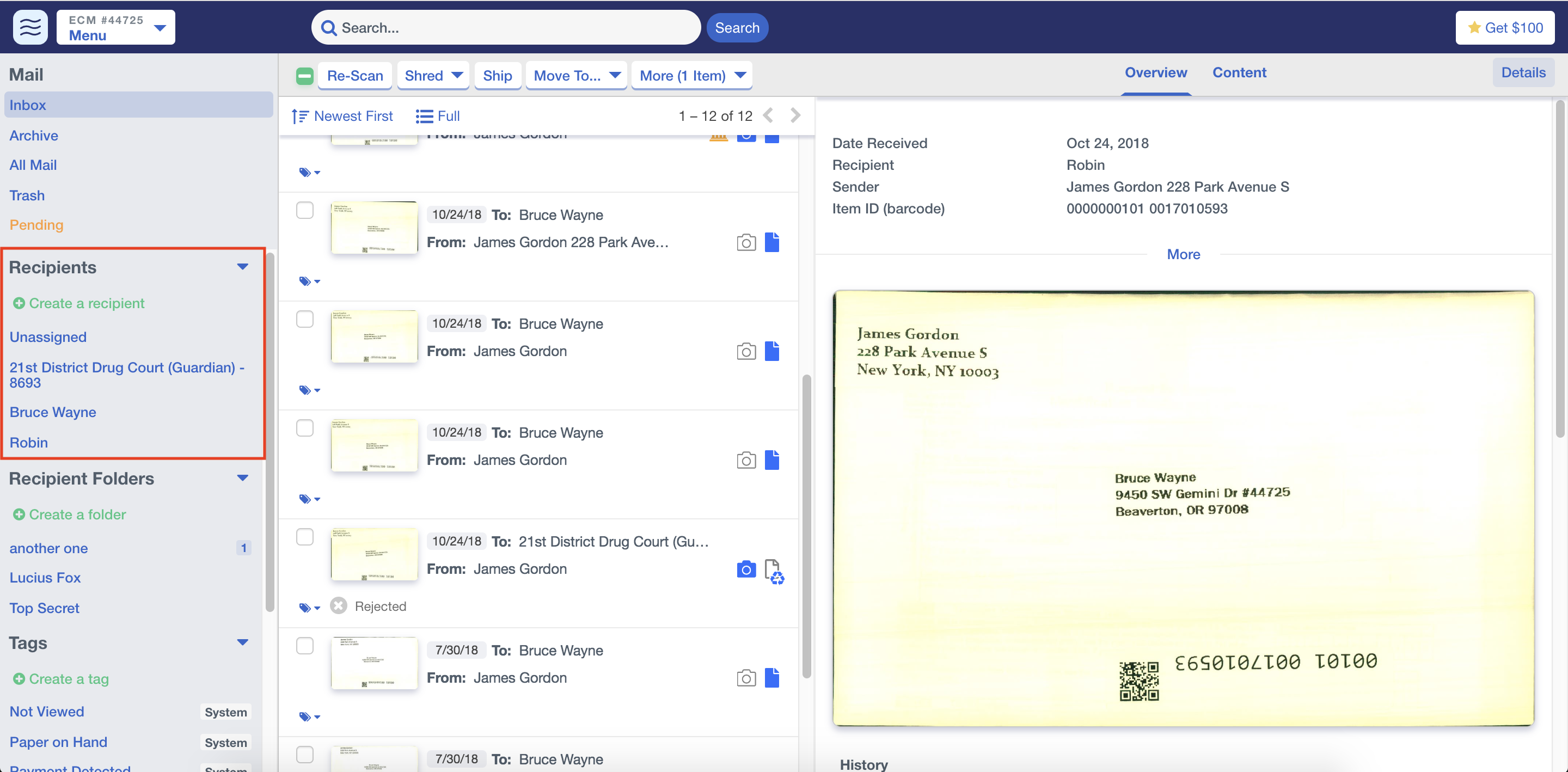 You can create Recipient Folders to organize the mail items in your Inbox. Learn more.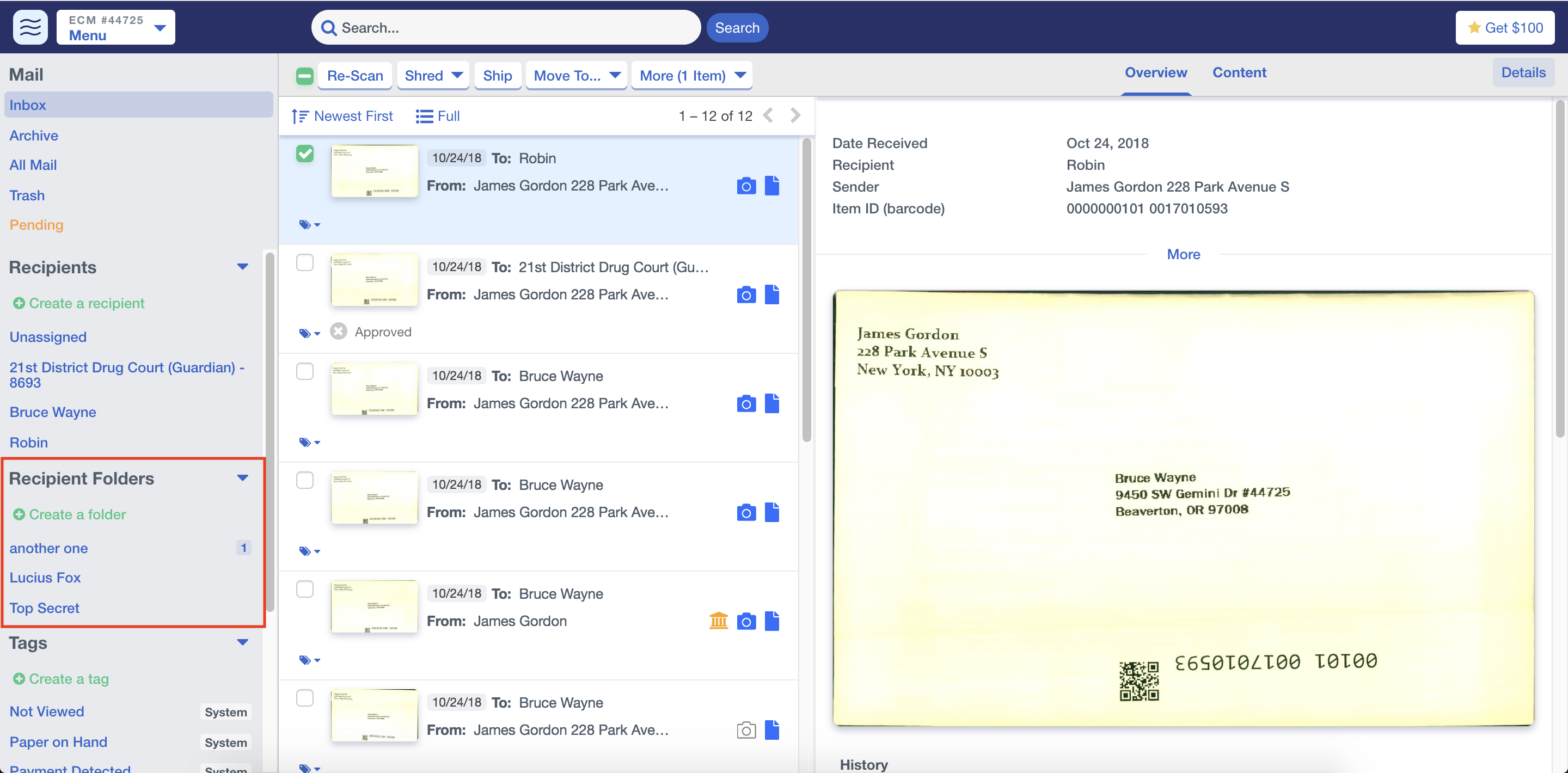 Tags 
System Tags will display all items with that specific status (such as items that have not been viewed, or those that have been shipped). You can also create and apply custom Tags based on your needs. Selecting a Tag from the sidebar will surface the tagged items across your account. Learn more.
If you ever have any questions consult our knowledge base or contact us!