Now that you're onboard and notarized, we want to show you around your Earth Class Mail Inbox. Clicking links as you go along in this article will help you learn more in-depth details about your Inbox's features and functionalities.
This is your Inbox. After logging into your account, this is your landing page and the primary control center for viewing and acting on all of your digital mail items.
Mail items will be shown here as they arrive in the Inbox. You can select mail items by clicking on the front scan of their envelope, or on the surrounding whitespace. Selecting a mail item will bring it up in the Preview Panel.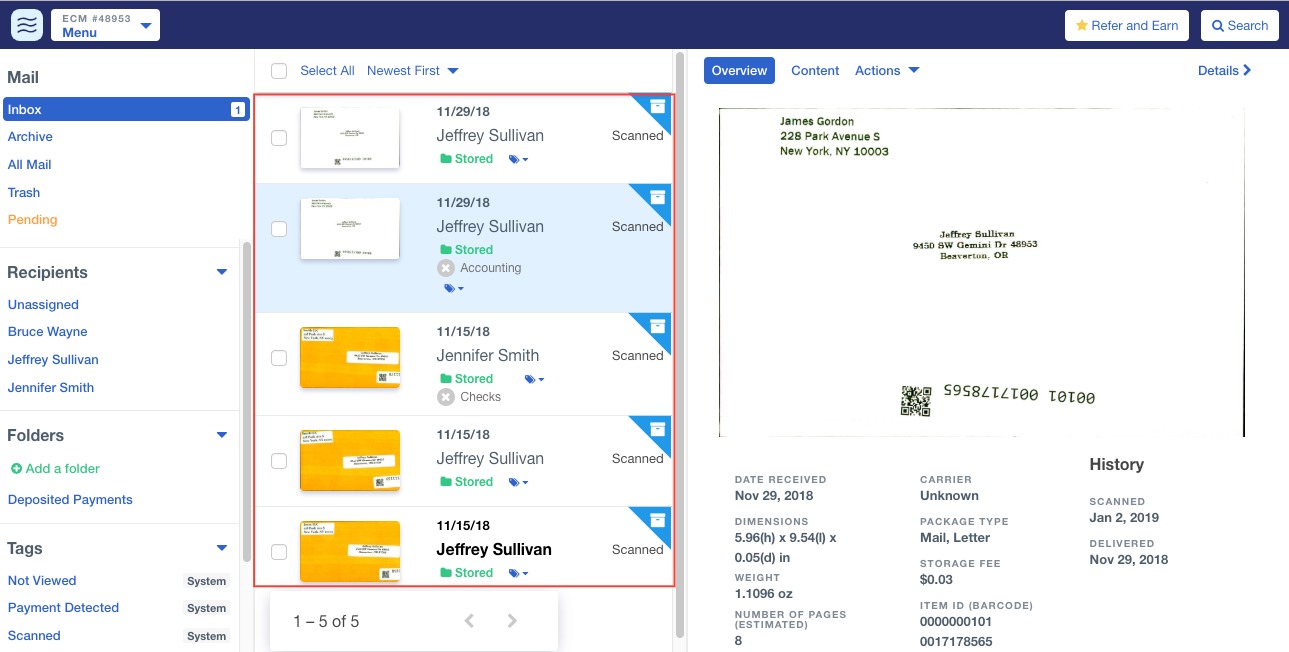 This is the Preview Panel, where you view fully-searchable PDF scans of your mail in Content. When viewing a scan in Content, you can download or print the scans. Details about the mail item may be viewed by selecting Overview.
We want you to be able to see and act, on your physical mail from anywhere in the world. From the Actions menu, you can order check deposits, have the mail item shipped to nearly anywhere in the world, or have the piece securely shredded and recycled.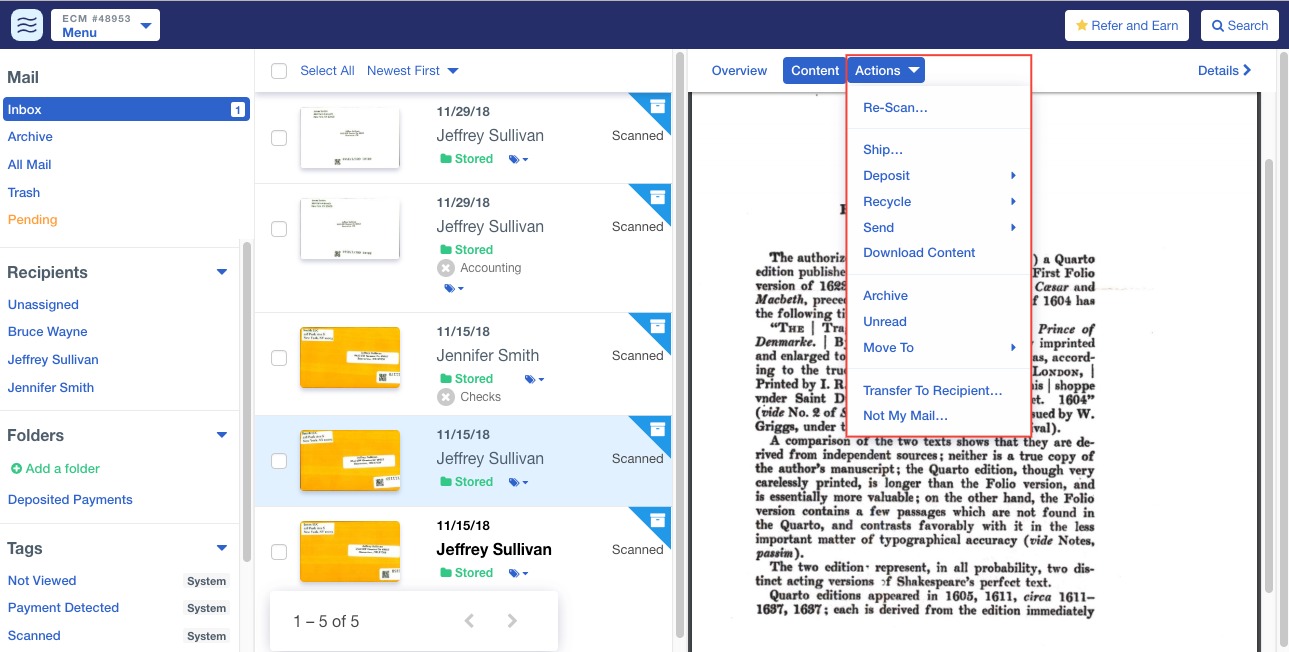 Your Account's drop-down menu allows you to view your various accounts, deposits, shipments, settings, log out, and links to support, help, and feedback.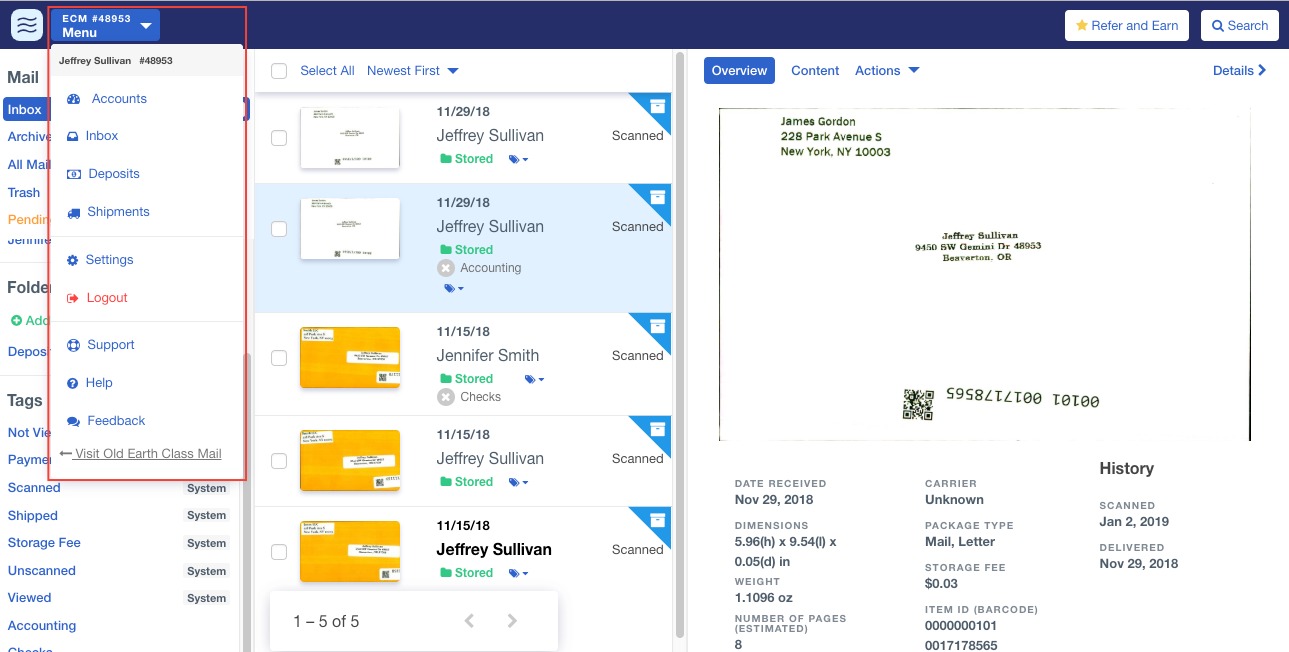 Your Default Mail folders contain a number of Inbox views. Simply click the name to change your Inbox view.
Inbox is your default view.  

Archive contains all of the archived digital scans.

All Mail shows all digital scans, whether they're in the Inbox or Archive.

Trash contains the digital scans that are for disposal.

Pending contains all of the mail items with pending physical actions, such as shipments or check deposits.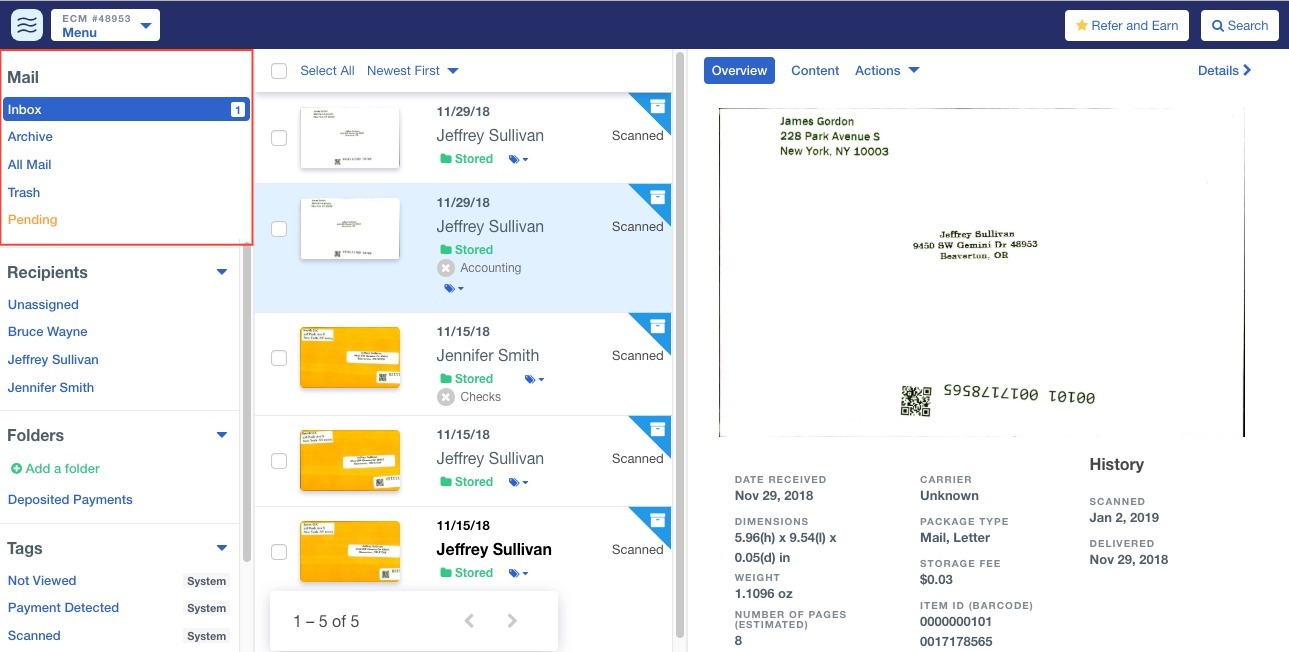 This is the list of Recipients in your account. They're the names your senders will use when addressing mail items to your inbox. Recipient names allow you to use your account's automation rules and can also help you better filter the mail in your inbox.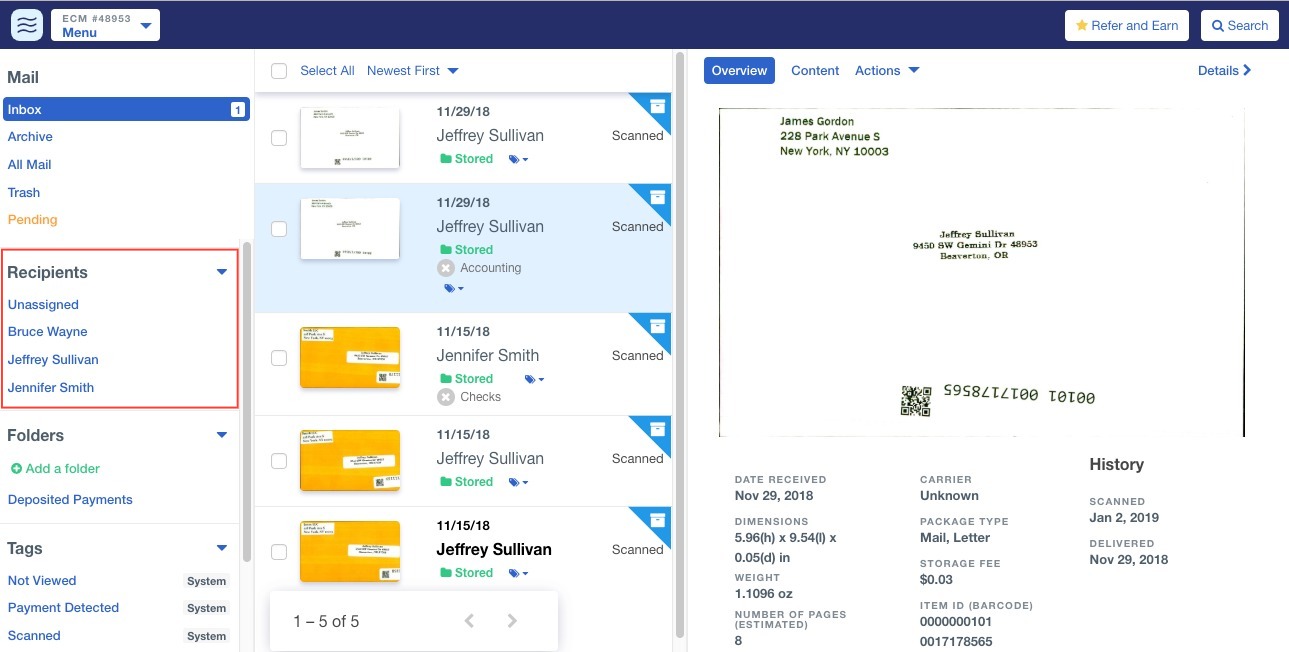 Folders help keep important pieces of mail in one location. You have a few default folders but can also create custom folders for organizing your mail items according to your specific workflow.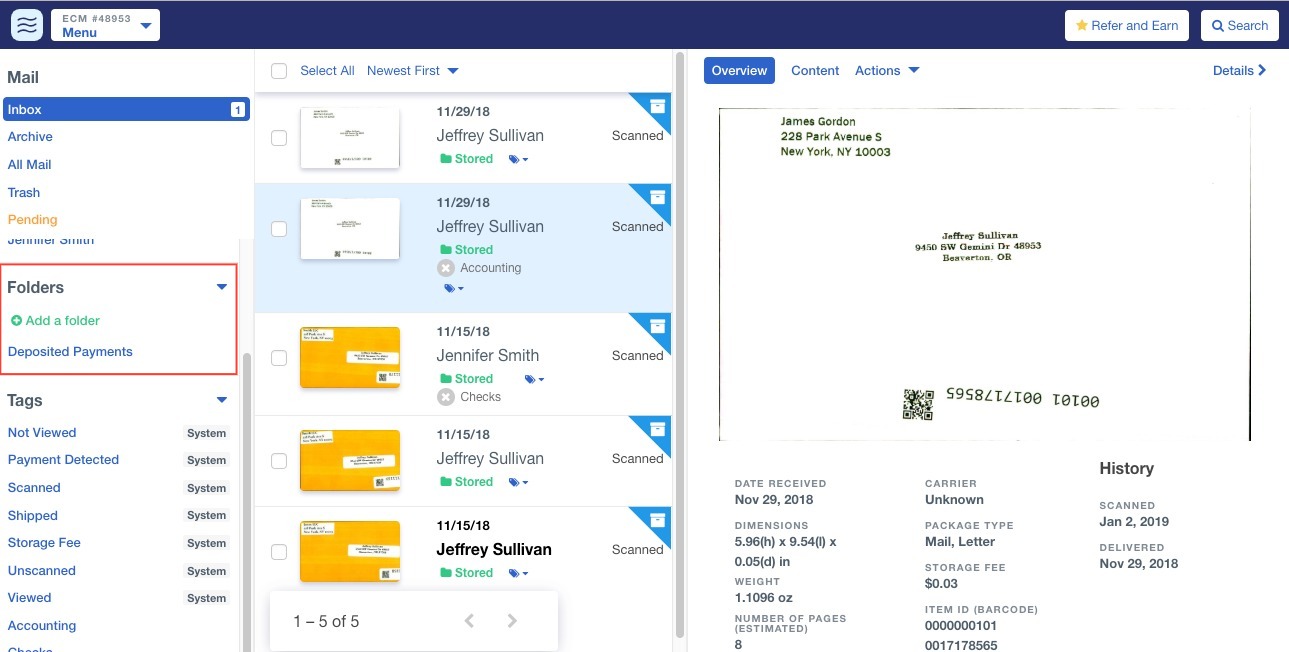 Tags may be used to classify mail items and organize your inbox. You can create custom tags, apply them to mail items, and filter your inbox according to your tags.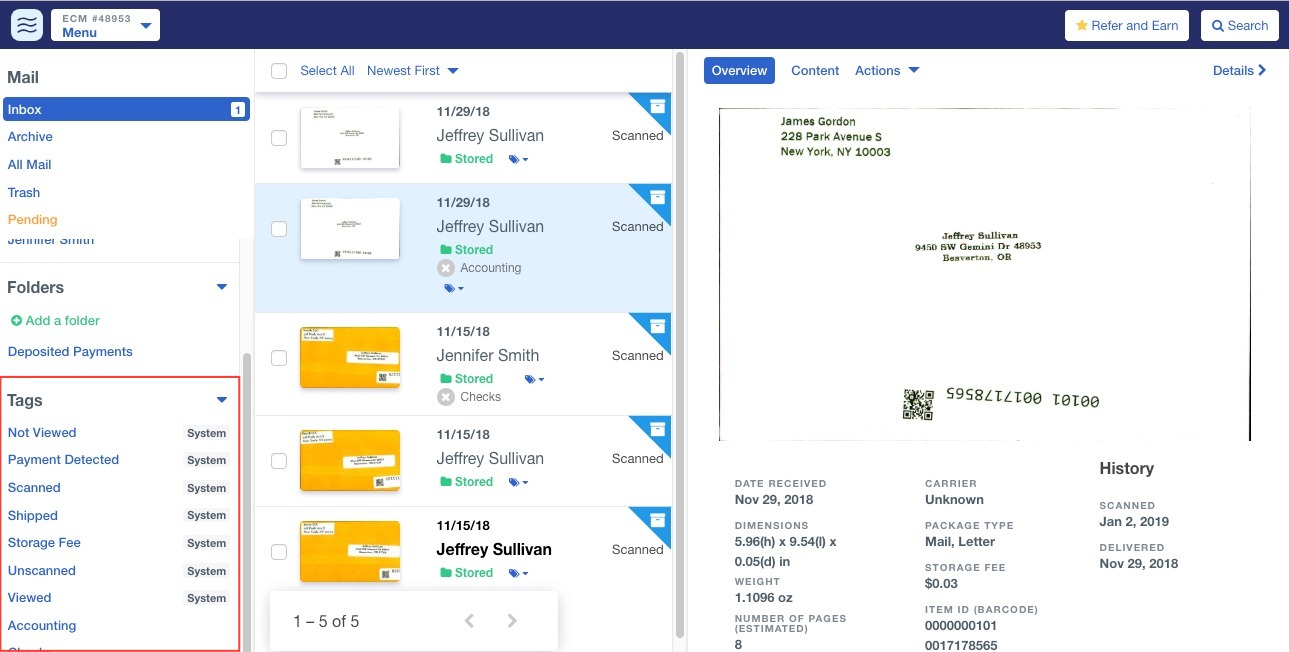 If you ever have any questions about your Inbox, you can always consult our knowledge base or reach out and contact us.