Earth Class Mail can store both your physical pieces of mail and the digital copies shown in your virtual Inbox. Whether you choose to hold onto your physical mail items or utilize our unlimited cloud storage, you can keep your documents where you need them to be.
Physical Storage 
We can securely store your physical mail at our processing facility in Beaverton, OR. The facility is monitored 24/7 with video surveillance and has entry controlled doors so that you can rest assured knowing that your mail is safe.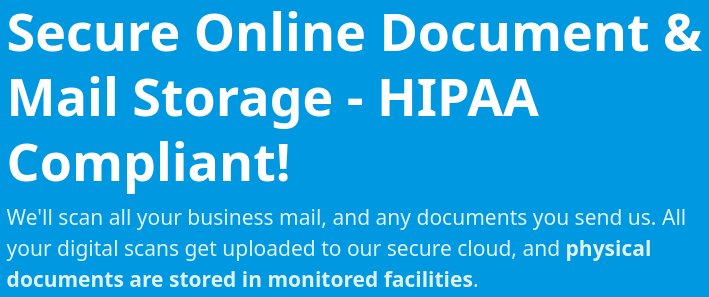 Mail items may be freely stored for 30 days, and packages for 10 days

.

Fees will begin to accrue after those time periods. To review our most up to date information on storage rates, click here

.

 
Mail items that have been stored longer than their free period allows are marked as "stored" in your virtual mailbox and will appear with a blue storage icon. You may view all of the mail items accruing fees by selecting the "Stored" tag from the tags list. To learn more about filtering your mailbox with tags, click here.
You can reduce your number of monthly storage fees by recycling any physical documents, letters, and/or packages that may be in our processing facility.  
Archiving a piece of mail in your virtual mailbox does not begin the process of shredding and recycling its physical copy, nor does it permanently remove the scan from your mailbox. When a piece of mail is "Archived," it becomes viewable only when the "Archived" tag is selected from the tags list. To learn more about Archiving your mail items, click here.
Cloud Storage
Your data is encrypted with 256-bit security, and with an average of 99.9% uptime, you know your data is always accessible.