Physical Storage
We can securely store your physical mail at our processing facility in Beaverton, OR. The facility is monitored 24/7 with video surveillance and has entry-controlled doors so that you can rest assured knowing that your mail is safe.
Mail items will be stored at no cost for 30 days and packages at no cost for 10 days. Monthly storage fees will accrue after those periods. To review our most up to date information on storage rates, click here.
Viewing Stored Mail Items
Mail items that are being stored beyond their free period will display a red Storage Fee icon. (PS. From your account, you can hover over any icon on your mail items to read its description.)

You may also view all the mail items accruing fees by selecting the "Storage Fee" tag from the tags list. To learn more about filtering your mailbox with tags, click here.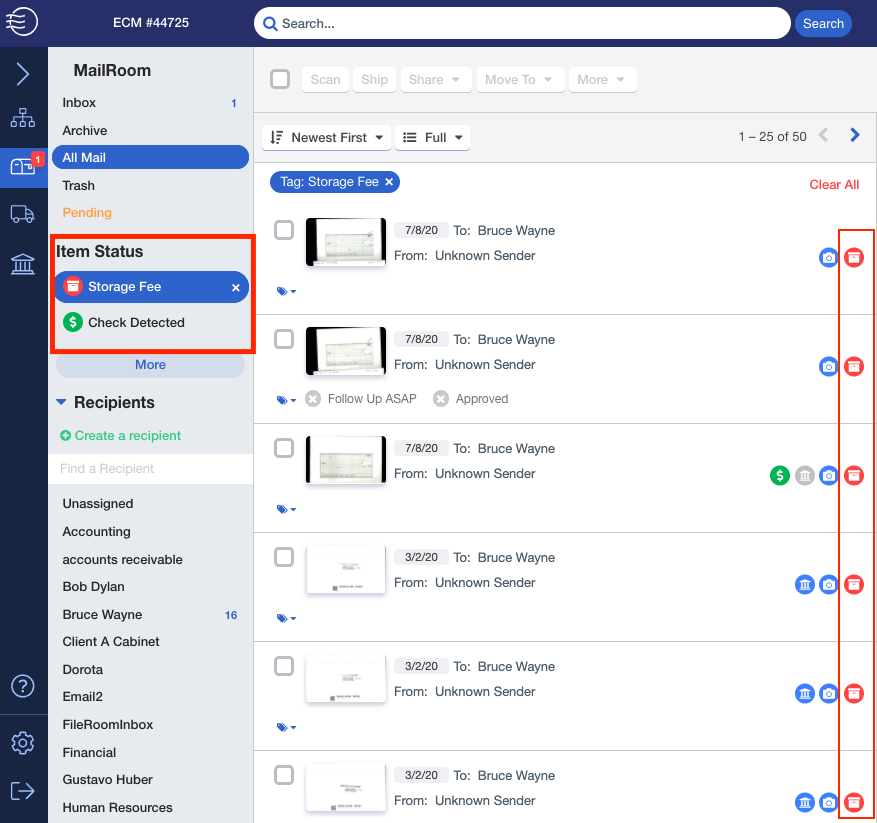 Managing Storage Fees
You can reduce or prevent storage fees by shredding or shipping any documents, letters, and/or packages that you do not wish to store in our facility. Remember, a Paper on Hand or a Storage Fee icon means that your physical mail item is still in our facilities.
Please note that moving a piece of mail to your Archive will not shred its physical copy or permanently remove the scan from your mailbox. When a piece of mail is moved to Archive, it becomes viewable only from the Archive view. To learn more about archiving mail items, click here.
Cloud Storage
Earth Class Mail can store both your physical pieces of mail and the digital copies shown in your virtual mailbox. Whether you choose to hold onto your physical mail items or utilize our unlimited free cloud storage, your documents are secure.