Recipients are the names you expect your mail to be addressed to alongside your Earth Class Mail address and number. They may be specific people, businesses and/or departments receiving mail in your account.
Aliases may be created for your Recipients in order to assign mail that's addressed to the Recipient with a nickname or alternate name. For example, an alias for Jonathan Smith would be "John Smith" or an alias for Zachary Jones might be "Zach Jones".
Please note: Items addressed to your account without a corresponding Recipient name will be delivered to your Inbox unassigned. Mailbox automation rules do not apply to unassigned pieces of mail, which will result in the need to request actions manually.
Adding Recipients
From the sidebar, click the Settings > Recipients. Click "Add New Recipient". Enter the Recipient name and then click "Save".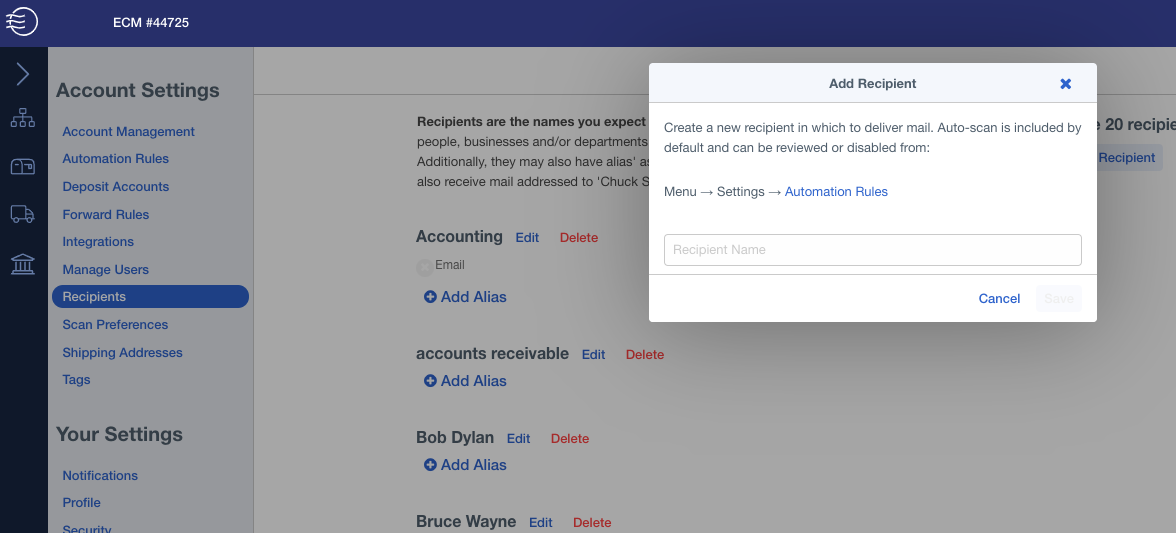 Adding Aliases
Some of your senders may know you or your business by a familiar nickname. That's why we offer the option to add aliases. This ensures that mail addressed to you by a nickname will still be filed under your Recipient name.
To add an alias, or nickname, to a Recipient, simply select the "+ Add alias" button beneath the Recipient's name. Type in the alias and press the "Submit" button.